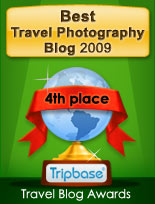 Tripbase Blog Awards 2009
I checked into Bob Krist's wonderfully informative and entertaining
Photo Traveler
blog this morning as I do everyday, and to my surprise read that The Travel Photographer was amongst the top ten in the Travel Photography Blog division of the
Tripbase.com
competition! Actually, The Travel Photographer came in
Fourth
place. Way to go, me!
Checking the Tripbase website, I read that its Travel award is only given to the blogs that are the top of their respective class and are some of the best in the field. These are selected based on how informative the blog is, the overall writing style, the actual blog appearance and how well that blog performs in its given category when compared and contrasted to other, similar blogs.
Among the top ten travel photography blogs are
Chase Jarvis
in First Place,
My Marrakech
in Third, Bob Krist's
Photo Traveler
, and the beautiful
Stuck In Customs
.
I'm gratified that The Travel Photographer blog has earned such recognition, and it encourages me to do even better in the weeks, months and years ahead...and Bob, thank you so much for the generous comments.