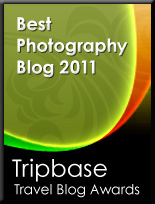 www.Tripbase.com
The Travel Photographer blog was selected for a Tripbase 2011 Blog Award for Photography! Tripbase's

panel of judges

reviewed hundreds of sites selecting the best ten for each travel category, and my site is one of those.
An excerpt from the Tripbase website:
"Listed below is a comprehensive list of the best blogs dedicated to travel photography. They exhibit beauty and creativity as well as a plethora of knowledge for the new and experienced travel photographer. They tell stories of where they have been the amazing sites they were able to see."
Let the good times roll!